Product Introduction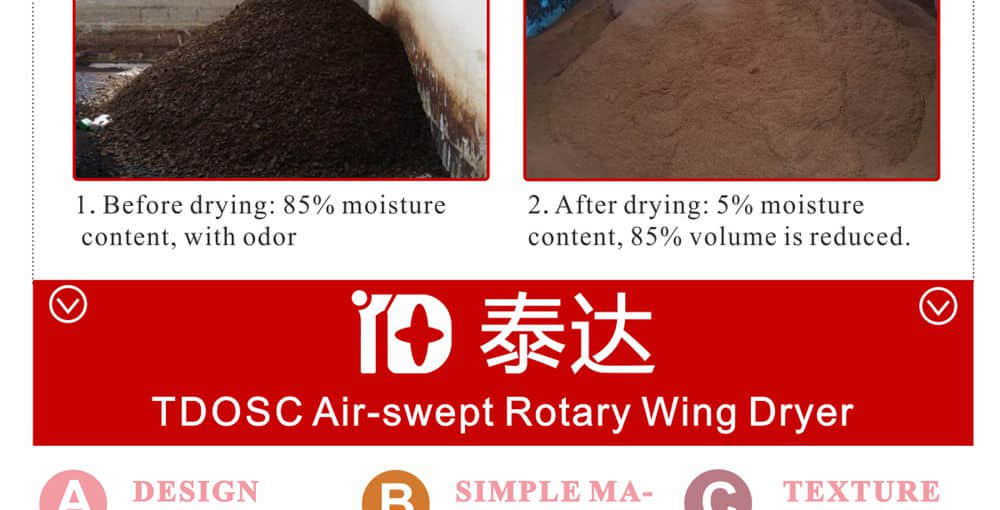 Zhengzhou Taida European C-type Rotary Wing Dryer makes up the technical gap in drying machine which can integrates drying and crushing into a whole. This new type dryer can be used to dry materials with 95% moisture content. It can be also used to dry materials with less moisture content without special feeding condition. Air velocity and material's retention time are changeable. Also, materials suitable for being dried by this kind of dryer is not singular. With wide application fields, it can be used to dry granular materials and power materials. According to discharged temperature and material's size, residual moisture of final products differ, from 1% to 10%.
This series of equipment can be used to dry wide range and various type of materials such as Aluminum hydroxide, bentonite, bone meal, liquor, calcium carbonate, cellulose, ceramic fiber, grain, animal waste, fruit residue, animal protein, municipal waste, various sludge and etc.
After drying process, sludge can be used as gardening soil, planting soil, foundation soil and cohesive soil in cement industry, which can effectively realize harmless reutilization of sludge and achieve energy-saving and circular economy aim. Secondary pollution can be completely avoided.


Product Superiority
European C-type rotary wing dryer is Taida fifth generation technical innovation, with super less occupation area, low energy consumption and good drying effect.
| | | | | | | | |
| --- | --- | --- | --- | --- | --- | --- | --- |
| No. | Equipment name | Output | Power | Electricity | Coal consumption | Labor force | Occupation area |
| 1 | First generation traditional rotary dryer | 1t/h | 37kw | 25.9° | 400-500kg | 5 | 260㎡ |
| 2 | Second generation sludge rotary dryer | 1t/h | 30kw | 21° | 300-400kg | 4 | 230㎡ |
| 3 | Third TDOSA European style dryer | 1t/h | 22kw | 15.4° | 200-350kg | 4 | 180㎡ |
| 4 | Fourth generation Double-shaft hot air mixing dryer | 1t/h | 18.5kw | 13° | 200-300kg | 3 | 140㎡ |
| 5 | Fifth generation TDOSC air swept rotary wing dryer | 1t/h | 15kw | 11° | 100-250kg | 2 | 90㎡ |
Features of new type MED sludge dryer:
1. This dryer holds wide application range, can be applied to deal with materials which cannot be dealt with by common dryer.
2. Whole drying system holds strong controllability. Can be matched with various fuels, like natural gas, oil, or oil. Discharging system is controlled by temperature instrument in discharging tube.
3. This drying system adopts advanced drying technology in international world, with good drying effect.
4. Can be used to deal with wide range of raw materials, from low-solid slurry to low-moisture powder, can be used to deal with almost any kinds of raw materials.
5. Raw materials' routine in dryer can be controlled, final products' state can be flexibly adjusted.
6. This dryer can use coal, electricity, oil, natural gas as heat source. Drying hot air can be classified into primary hot air and secondary hot air.
7. Equipment disposal capacity is in a wide range, from 100kg to several tons.
8. Working efficiency is 70% to 90% (will be different if heat mode is not same).
9. Production process is environment friendly, final products holds uniform particle, with less occupation area, final products hold high quality.
10. With reasonable equipment structure, low occupation area, low noise, low vibration. Adopt reliable PLC control. Matched with efficient and clean combustion furnace and tail gas purification system, can achieve efficient, low energy-consumption and zero pollution aim.
Working Principle
European C-type Rotary Wing Dryer adopts the most advanced drying technology. It can almost deal with any kinds of materials, from low-solid contents to low-moisture powder. Materials' routine in dryer can be easily controlled. Therefore, this drying system can be used to produce dry fine powder and moist granular materials. There are three separate zones set in the drying system. Central retention zone decides the residual moisture and physical size of final products. Although this drying system adopts high temperature difference, but same with majority instant dryers, products' temperature is lower than wet ball humidity. Heat source of this dryer can adopt oil-fired or gas-fired hot air fan. Generally speaking, heat source device is always integrated with drying cylinder. Products can enter terminal region directly from drying tubes. Final products can be collected by separator and bag filter. This series of dryer contains 9 sizes. Evaporation speed can reach as high as 8ton per hour.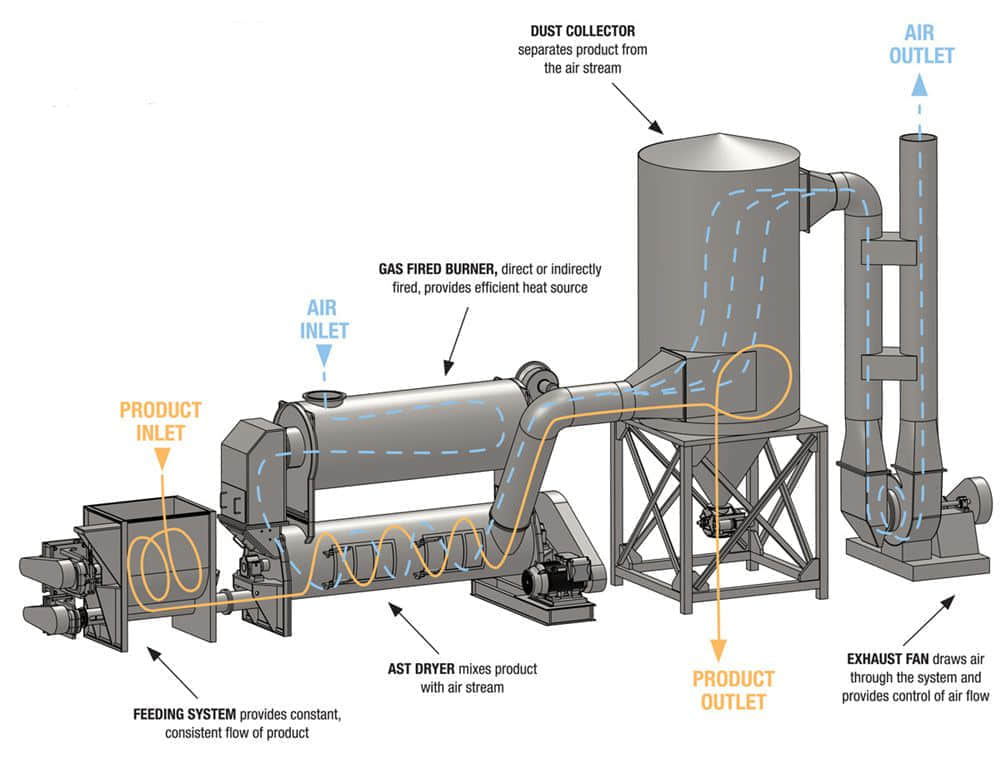 Technical Parameter
| | | | | | | | |
| --- | --- | --- | --- | --- | --- | --- | --- |
| Item | TDOSC310 | TDOSC510 | TDOSC1010 | TDOSC2010 | TDOSC3010 | TDOSC4010 | TDOSC5010 |
| Thermal value(10^4kCal/h) | 10 | 15 | 30 | 65 | 130 | 180 | 250 |
| Hot air(m3/h) | 2500 | 3720 | 7500 | 16000 | 32000 | 45000 | 70000 |
| Max evaporation(kg/h H2O) | 360 | 550 | 1100 | 2200 | 4500 | 5500 | 7800 |
| Power(kW) | 7.5 | 11 | 30 | 55 | 75 | 110 | 160 |
| L(mm) | 3800 | 4080 | 5200 | 5500 | 6500 | 10500 | 12000 |
| W(mm) | 1200 | 1500 | 2200 | 2900 | 3200 | 3800 | 4580 |
| H(mm) | 835 | 1000 | 1390 | 1800 | 2200 | 2680 | 3320 |