Product Introduction
Zhengzhou Taida new type air-swept dryer makes up the technical gap of drying mill equipment. This type of dryer can be used to dry materials with 95% moisture without relying any form of feeding condition. The air velocity and retention time in air swept dryer are flexible. In addition, this series of dryer can dry different forms of raw materials. With wide application, it can be used for both granular materials and powder materials. For different discharged temperature and size of raw material, the residual moisture of raw materials is not the same, from 1% to 10%.
Here are some typical raw materials which can be dealt with by air swept dryer.
Aluminum hydroxide, bentonite, bone meal, liquor, calcium carbonate, cellulose, ceramic fiber, grain, animal waste, fruit residue, animal protein, municipal waste, various sludge and etc.
Taida European style dryer is mainly used for drying wet materials in beneficiation, building materials, chemical industries. Besides hard materials like lump coke, this drying system can also be used for anti-pulverization materials, such as:
After drying, the sludge can be sent to boiler as fuels to provide various heat source for other equipment.
Dried sludge can also be used as gardening soil, farming soil, fertilizer foundation base, gardening soil, construction soil and cement plant soil, which can totally realize sludge harmless and recycling aim. This drying system cannot only make energy-saving and emission reduction come true, but also eliminate secondary pollution.

Product Superiority
1. This drying system can precisely adjust the retention time of raw materials. The adjusting range can be as accurate as second. According to properties of sludge in different industries, highest temperature and retention time can be guaranteed.
2. The whole drying system can be easily controlled. There are a wide range of fuels which can be applied for this drying system such as natural gas and oil. For the drying system, the combustion speed is controlled by temperature instrument of dryer's discharging pipe.
3. The drying system adopts the most advanced drying technology in the world. Therefore, it holds good drying effect.
4. This drying system adopts Taida fifth generation drying technology which is based on years' research. With much less area occupation and energy consumption, this drying system holds almost perfect drying performance.
5. Customers can choose corresponding auxiliary machines in the drying production line. We can match superior exhaust gas purification system according to customer's demands. The whole system is controlled by automatic electric utilities which makes the drying production line characterized by high efficiency, intelligence, low energy consumption and less pollution.
| | | | | | | | |
| --- | --- | --- | --- | --- | --- | --- | --- |
| No. | Name | Output capacity | Power | Electricity | Coal consumption | Manpower | Floor area |
| 1 | First generation rotary dryer | 1t/h | 37kw | 25.9° | 400-500kg | 5 | 260㎡ |
| 2 | Second generation sludge rotary dryer | 1t/h | 30kw | 21° | 300-400kg | 4 | 230㎡ |
| 3 | Third generation TDOSA European style dryer | 1t/h | 22kw | 15.4° | 200-350kg | 4 | 180㎡ |
| 4 | Fourth generation double-shaft hot air mixing dryer | 1t/h | 18.5kw | 13° | 200-300kg | 3 | 140㎡ |
| 5 | Fifth generation TDOSC air-swept rotary wing dryer | 1t/h | 15kw | 11° | 100-250kg | 2 | 90㎡ |
Working Principle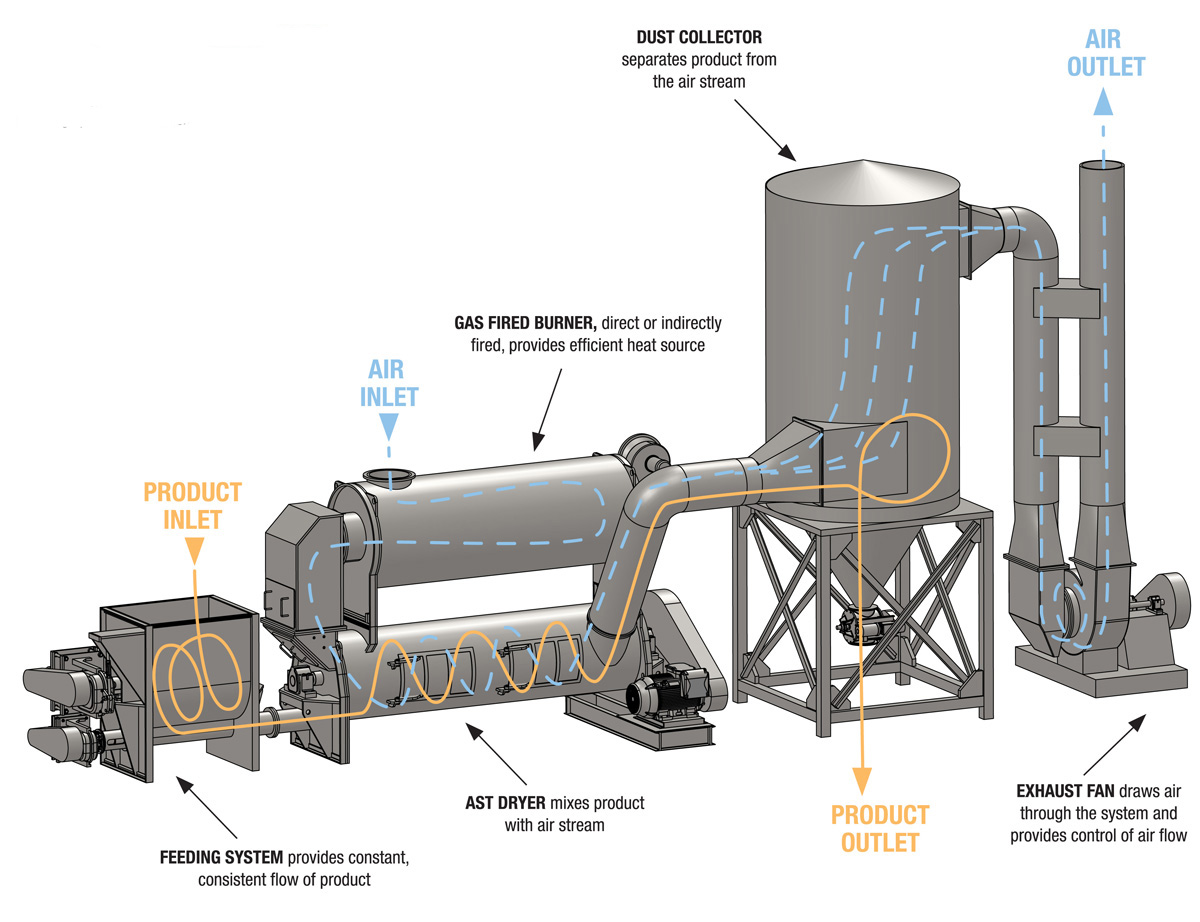 Technical Parameter
Item
Unit
Model
TDOSC-D1500
TDOSC-D2500
TDOSC-D3500
TDOSC-D5500
Moisture evaporated and eliminated
kgH20/hr
1500
2500
3500
5500
Maximum wet sludge feed volume
kg/h
10000
15000
25000
40000
Maximum moisture content of wet sludge
%
90
90
90
90
Output moisture
%
12-50
12-50
12-50
12-50
Installed power
rotary shaft motor
kw
22x2
22x2
30x2
45x2
Scraper shaft motor
kw
5.5
5.5
5.5
5.5
Backmixing motor
kw
2.2
2.2
2.5
2.2
Inlet hot air temperature
℃
350-800
350-800
350-800
350-800
Overal dimensions
mm
4500x2100
x4000
5700x2100
x4500
6700x2100
x4500
7700x2100
x4500
Equipment weight
kg
10500
12000
18000
2500