Product Introduction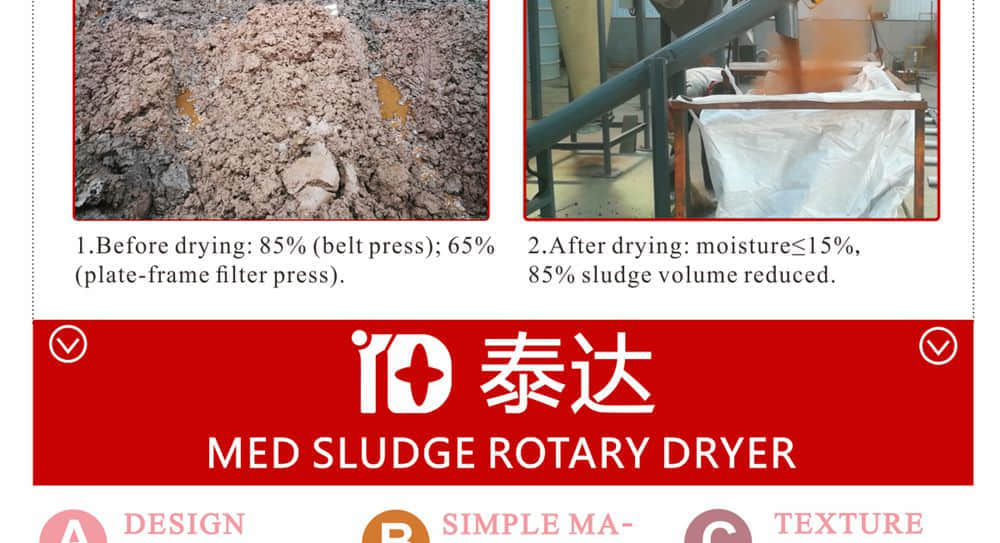 MED rotary sludge dryer holds high thermal efficiency low energy consumption. After testing, its thermal efficiency is 50% higher than traditional rotary drum dryer.
MED sludge rotary dryer is characterized by scientific design and low energy consumption. Compared with common single rotary dryer, its external superficial surface is 30% lower. In addition, MED rotary dryer is equipped with insulation layer which can effectively prevent heat loss. Working environment and condition is greatly improved.
Shorted drum length provides convenience for layout. Whole length is 40% shorter than single drum dryer. Correspondingly, factory construction area and investment cost are saved. Upgraded MED rotary dryer is also better for factory reconstruction.
MED rotary dryer holds wide application range: can be used to dry clay, coal, ore slag and iron powder materials. It can also be used to dry loose materials from metallurgy and chemical department.
MED rotary dryer holds compact structure. Whole system is arranged horizontally. Whole system adopts riding wheel support and gear transmission. Whole system is marked by easy installation, simple operation, reliable running and high working efficiency. MED rotary dryer adopts frequency conversion speed regulation. According to initial moisture and output demand, customer can set proper rotation speed in order to provide convenience for next process.
Sludge comprehensive utilization project has become major project for harmlessness, reutilization and amount reduction aim of power plant sludge, chemical sludge and municipal sludge. Sludge dryer is pre-process equipment of whole application field. Zhengzhou Taida Drying Equipment Co Ltd can also provide customer complete whole production line including belt dewatering machine, sludge dryer, waste water treatment plant and tail gas purification equipment. MED rotary dryer holds large output capacity and strong drying effect. We can offer customers whole set service containing technical design, transportation, installation, test running. Customer can get profits with low investment cost.
Product Superiority
With increase of waste water treatment plants and improvement of waste water treatment technology, sludge amount produced from waste water treatment process is keeping rising. Although there are many methods for sludge treatment such as thermal drying, compost and incineration, these methods cost large amount of basic running cost. Meanwhile, it will produce pollutants like dioxin. Comparatively, MED rotary dryer produced by our company is characterized by low investment cost, quick effect and stabilization. MED rotary sludge dryer is more suitable for national condition in China.
MED rotary dryer is developed based on Taida MGT rotary dryer. It can be widely applied to dry:
1. Coal industry, crude coal, lignite, semi-coke, floatation concentrate and mixing clean coal.
2. Furnace slag from construction industry, gypsum, clay, limestone and viscous gypsum.
3. Various metal concentrates from beneficiation industry, tailings, ore slurry and waste slags.
4. Non heat-sensitive materials from chemical industry.
5. Sludge cake and viscous sludge from industrial waste water treatment and municipal waste water sludge
Features of new MED rotary sludge dryer:
1. Adopts advanced drying technology. Energy consumption is lower than other common drying equipment.
2. Suitable to deal with high moisture materials. No matter it is fluid state materials before concentration or filter cake, MED rotary dryer is applicable. Considering from energy saving angle, we suggest customer to do filter pressing process before drying.
3. Sludge stabilization alkaline process can remove odor and kill bacterium, but deep drying technology can dry high-moisture raw materials to powder.
4. Drying machine can be matched with coal, electricity, oil and natural gas. Drying hot air can be classified into primary or secondary indirect air.
5. Equipment input capacity is in a wide range, from 100kg to tons.
6. Drying efficiency is as high as 90% (will be different for different materials and heating mode).
Working Principle
Zhengzhou Taida new type MED sludge dryer can reduce materials with 90% moisture to final standard products. Aimed at viscous and cake-forming property of sludge, we improve lifting plate structure of single-pass dryer. MED dryer adopts combined self-cleaning device and expand application range of single-pass dryer. It can be used to not only dry sludge, but also can be used to dry other various high-moisture materials.
Sludge will be sent to sludge silo by screw or belt conveyor. Then, sludge will enter rotary drum. Under the function of inclined lifting device and gravity, materials will form a uniform material curtain. Heated air will cross sectional area. Thus, materials will be preheated and partial moisture will be evaporated. Under the function of flow guidance plate, sludge will scatter on grate plate. Materials will mix with preheated grate for further evaporation. Grate plate will lift and scatter materials. During the moving process, sludge will fully exchange heat with hot air. There is an automatic cleaning device installed at main drying zone. After rotary drum passing by vertical line, cleaning device will drag at back of circular lifting plate. Sludge sticking on lifting plate's external wall will be cleaned up, which will avoid wall sticking and guarantee drying effect. Meanwhile, cleaning device can also disperse materials and promote heat exchanging. Drying speed is improved. After drying, high-moisture will become low-moisture loose sludge which will be discharged from outlet.
MED rotary dryer produced by our company adopts new lifting plate device which holds flow guidance, flow equalization and lifting functions. Materials can fully scatter in radial section of dryer. Material curtain presents a thin and uniform state, which makes sludge fully contact with hot air flow. Thermal energy can be fully used.
Dryer's heat source comes from combustion device. This dryer can apply various fuels as combustion heat source. What's more, electrical control system can automatically regulate hot air temperature and effectively avoid waste of energy. MED dryer can meet drying temperature demand of some special materials. This dryer can be designed into concurrent or counter current type heating mode.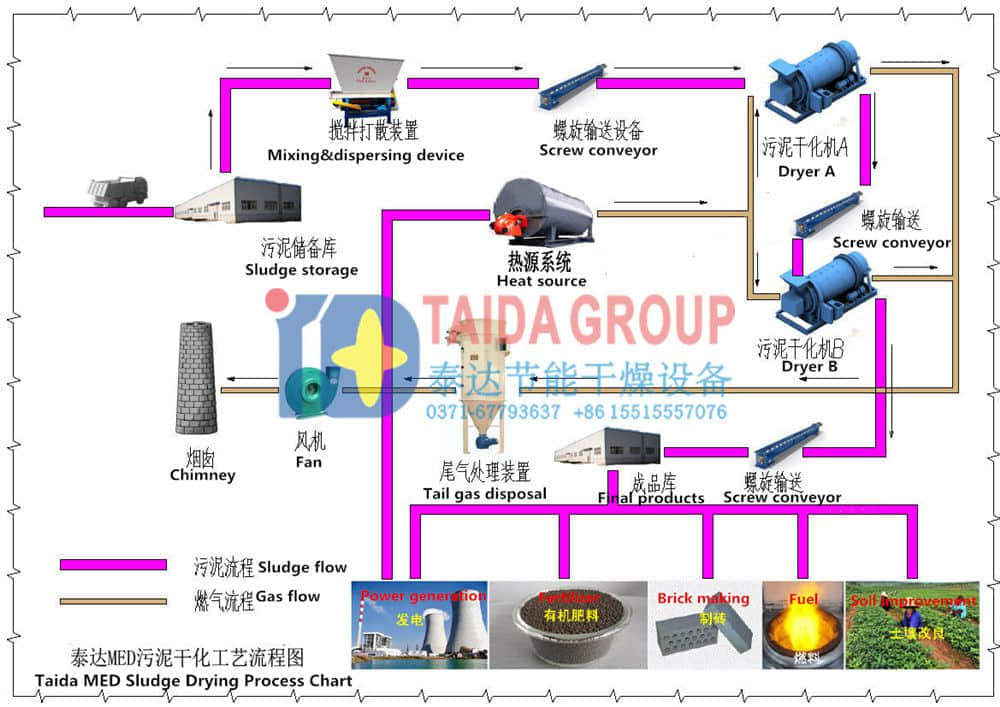 Technical Parameter
Model

Diameter(M)

Length(M)

Slope(%)

Power(kw)

Rpm
(r/min)

Occupation area(m²)

MED-12100

1.2

10

3-5%

7.5

3-8

100

MED-15120

1.5

12

3-5%

10

3-8

150

MED-15150

1.5

15

3-5%

18.5

3-8

200

MED-18120

1.8

12

3-5%

11

3-8

260

MED-22120

2.2

12

3-5%

18.5

3-8

260

MED-22140

2.2

14

3-5%

18.5

3-5

300

MED-22160

2.2

16

3-5%

30

3-5

300

MED-24140

2.4

14

3-5%

30

3-5

350

MED-24180

2.4

18

3-5%

37

3-5

400

MED-24220

2.4

20

3-5%

37

3-5

450

MED-30200

3.0

20

3-5%

55

3-5

500

MED-30220

3.0

22

3-5%

75

3-5

500

MED-40250

4.0

25

3-5%

210

3-5

800