Product Introduction
Oily sludge refers to sludge which mixes crude oil, various product oil and oil residue. Oily sludge is not a kind of substance existing in nature. It is caused by improper operation and accidents in oil filed exploitation, smelting, transportation, usage and storage relevant to crude oil and product oil. After leaking into ground, it will deposit in ocean, lake, river, mux and water. Then, mixture such as oil, soil, water and other harmful pollutants will be produced. Oily sludge will do harm to human health. After evaporating into air, it will produce the oil gas which affects skin, eyes and respiratory organs. Even, soil will lose the function of plant growth. The influence caused by oily sludge is very difficult, it is hard to restore these bad influences. Therefore, oily sludge is a main pollution source in petroleum and chemical industries.
Harm of oily sludge
Generally, oily sludge refers to stable suspended emulsion containing oil in water or water in oil. Dehydration effect for oily sludge is not good. Disposal effect is closely relevant to sludge ingredients, physical quality, treatment process and medicament. Quality of sludge differs much for oil sludge from different industries. Partial oily sludge holds recycling value. With heavy metal and other harmful matters, it may cause radioactive contamination to environment.
With large volume, oily sludge will occupy too much area and cause pollution to soil, air and water without proper disposal methods. Sometimes, oily sludge will produce foul smell. There are a great amount of heavy metal, salt, zinc, chrome, mercury, dioxin and other hazardous matters contained in oily sludge. If buried casually into land, oily sludge will cause serious damage to underground water, crops, trees, plants and natural environment.
Common disposal methods
Method 1 simple disposal
It is a very simple method to just bury oily sludge or solidification. Direct dumping is a very frequently-used method to deal with oily sludge in domestic oil fields.
Disadvantages of simple disposal method
This method wastes useful energy contained in oily sludge. It may also lead to pollution to environment. Although pollution to environment may be reduced after solidification, this method still cannot meet demand for environmental protection.
Method 2 extraction
This method makes use of like dissolves like principle. It chooses a kind of organic solvent to recycle crude oil in oily sludge. If you adopt multi-separation extraction with primary hot wash to treat oily sludge, oily sludge can meet emission standard of agricultural sludge. Chemical agent can be recycled.
Disadvantages of extraction
This method is not very mature. At present, extraction process is still in development stage. Because extraction holds high cost, it hasn't been widely applied to oily sludge disposal.
Method 3 incineration
After pre-disposal and thickening treatment, oily sludge can be sent to incinerator in 800 to 850 temperature condition. Incineration process can be finished in 30 minutes. After incineration, ash content should be further disposed.
Disadvantages of incineration
Incineration process always cause secondary pollution. Incineration process should be carried in special incinerator. It can easily eliminate harmful matters contained in oily sludge. If customers doesn't take comprehensive utilization into consideration, it will cause a waste of useful resources.
Method 4 biological method
Main biological methods to deal with oily sludge are tillage, compost and sludge bioreactor method. Biological method mainly makes use of microorganism to degrade harmful ingredients of oily sludge.
Disadvantages of biological methods
Tillage and compose method will occupy too much area. Bioreactor will cause residual dregs discharged into environment. Also, biological method consumes longer disposal time and complex disposal process.
Method 5 physical and chemical disposal method
Various physical and chemical methods take crude oil recycling as final aim. The price of oil keeps high all the time. Pollution emission will cause large amount of pollution discharge fee, which makes this method attractive.
Disadvantages of physical and chemical method
1. Not thorough recycling. There will be secondary sewage and secondary pollution problem caused. Therefore, customers will also need further disposal and comprehensive utilization.
2. In the disposal process, there will be some chemical agents which should be added. It will need no extra disposal facilities and higher cost.
3. It will avoid the production of harmful and hazardous gas to adopt indirect heating disposal mode. Meanwhile, low carbon emission aim can be realized.
4. This method holds better disposal effect. Finally, the oil content of final solid phase product is 0.3%.
5. Oily sludge recycling technology developed by Zhengzhou Taida Group can be used to dispose oily sludge with various states. After disposal, oily sludge can be made into fuels with high thermal value.

Product Superiority
1. The drying system is based on modulus curriculum. With standard transportation size, this drying system can provide various specifications and models.
2. This system can uttermost recycle oily matters. The final solid products can be utilized as high-calorific value fuels.
3. This drying recycling system adopts indirect heating mode, which can avoid the production of toxic and harmful gas. Meanwhile, low carbon emission aim can be achieved.
4. This recycling system holds better disposal performance. Oil content of final products is lower than 0.3%.
5. Zhengzhou Taida oily sludge recycling system can be used to deal with various states of sludge, such as oily matter recycling and water standard emission. The oil content of final residue is lower than 0.3%. Recycled oil can also be further disposed and made into high-thermal value fuels.

Working Principle
Oily sludge will be disposed by first-level drying device and second level pyrolysis carbonization device. Under the function of direct heating, majority of oil and water components will be separated and evaporated through thermal desorption. A portion of oil components will be cracked and form small molecules of oil. After solid-phase separation, solid phase products which can be made into high-grade fuels will be produced. Volatile oil compositions produced in the process will be condensed and recycled. Then, these oil can be burnt as fuels and be used to provide heat energy for whole system. Flue gas after combustion will be discharged after proper disposal method.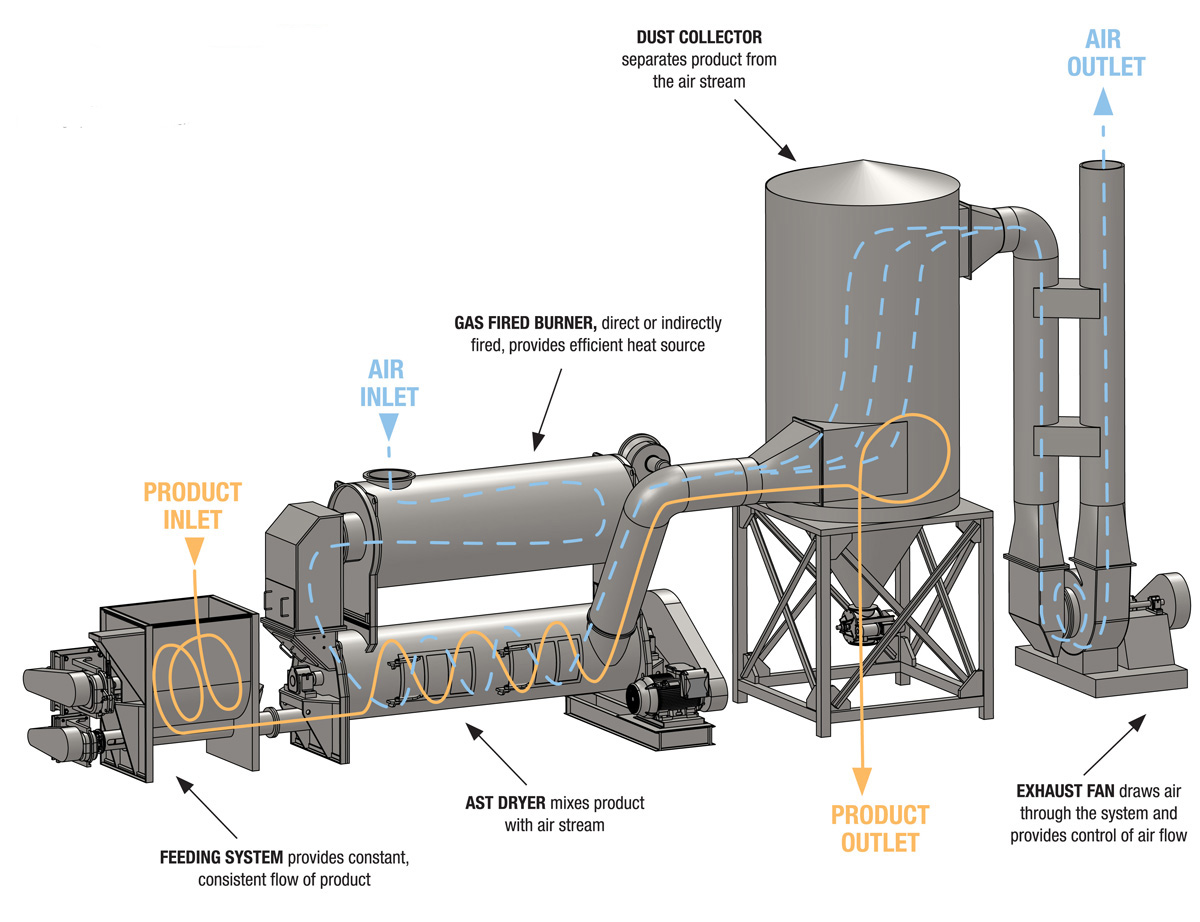 Technical Parameter
Introduction of Taida air swept oily sludge drying system
Raw materials preparation system
It is decided according to physical state of raw materials.
Measuring&feeding system
It is controlled by PLC control system. Send ready raw materials into buffer silo. Through continuous material feeding equipment, raw materials will enter dry distillation furnace.
Dry distillation furnace system
After entering dry distillation furnace, oily sludge will pass by preheating zone, drying zone, dry distillation zone and high temperature zone successively under the function of screw feeder, which will eliminate the moisture and wet gas at surface.
Heating furnace system
Seal system
Continuous discharging system
PLC automatic control system. After dry distillation, oily will become dry ash coke.
Oil and gas recycling system
After dry distillation, dry sludge will produce oil-water gas. In the function of dust collector and indirect cooler, fuel oil and clean water will be got.
Dust collecting system
This system is provided matching with oily sludge dry distillation process. Its main aim is to separate sulfur dioxide from heating furnace and gas boiler, which will make the system meet national standards.
PLC control system