Product Introduction
Current disposing situation of food wastes
Food wastes are mainly composed of food leftovers and waste food. If they are used as treated directly as common city garbage, it will not only cause environmental pollution, but also add the total amount of municipal wastes. In addition, it will also cause a waste of food. At present, there are some people who directly apply these food wastes as feedstuff. However, food wastes easily go bad in the transportation process. There are some harmful bacteria and microorganism contained in food wastes which may infect fed animals. Correspondingly, human health will be affected. The whole set of food wastes recycling system developed by Zhengzhou Taida consists of crushing system, dehydration system, secondary crushing system, drying system, sterilization system, adding feedstuff additives, pelletizing process and etc. in order to reduce resource waste and pollution caused to environment, this whole set of food wastes recycling system can realize resources reutilization and make food wastes into useful resources. After being disposed by Taida air-swept drying system, food wastes become a kind of necessary forage for husbandry industry. This technology makes full use of organic matters contained food wastes. After crushing, dehydration and drying, food wastes can become feeds with high thermal energy. With good color and uniform pellets, food wastes can be used as good superior feedstuff. This food wastes drying system totally solve the pollution problem caused by food wastes.

Difficulties of food wastes disposal
1. High moisture content: about 65% to 95%
2. Perishability: food wastes are with high organic contents. In high temperature condition, food wastes go bad easily, which will lead to new pollution.
3. High salt content: if food wastes are made into fertilizer without proper disposal, it will cause side effects to soil. After long time, it will cause land desertification.
4. High content of free fat;
5. There are virus, pathogenic bacterium and pathogenic microorganism contained in food wastes. Without proper disposal, food wastes will cause the spread of germs and infection.
6. Contains potential bio-energy: without effective disposal, food wastes can be recycled, which can solve energy consumption.
7. Compared with municipal wastes, food wastes are with simple chemical composition. They holds less harmful and hazardous substances. With proper treatment method, food wastes can become useful energy.
Harm of food wastes
There are much organic elements contained in food wastes which will decay and breed bacteria easily in summer.
There are much residual soup and Sou water which easily cause pollution to garbage collection and transportation process.
Food wastes from landfills are main source of percolate. It is also main source of atmosphere pollution and fly.
Pigs fed by food wastes and swill oil will produce much harm to human.
At present, many cities just apply food wastes as wastes directly without any disposal. Once eating unclean water, pigs are easy to catch diseases. Some harmful substances and causatives will always stay in body of pigs. Besides, in order to reduce morbidity, livestock farm always increase dosage, which will lead to a great deal of antibiotic staying in pigs. Meanwhile, after long-term eating swill feed with high fat, there will be much fat and fatty acid accumulated in pigs. The pork quality will decrease. Plague from human are easily transferred to livestock. Even, the accumulation of hazardous substances in livestock may also bring threats to human health.

Disposal method for common domestic food wastes
At present, china lacks effective follow-up disposal process for food wastes. In many large and medium-size food wastes, food wastes daily life are always sent to sewage directly or sent to municipal collecting-transporting system. Some cities prefer to mixed landfill or incineration. Perishable wastes cause too much difficulties for comprehensive disposal process of food wastes. Also, perishable wastes add too much disposal cost for disposal machine.
Frequently-used disposal methods for food wastes
Recycle food wastes as useful fodder
After solid-liquid separation, food wastes which are with high-solid content will be sterilized and dried. After adding certain amount of fungus, organic substances in food wastes will be degraded into biological fodder. This method is characterized by high integration and small land occupation. Food wastes can be converted into useful resources.
Recycle food wastes into organic fertilizer
Aerobic composting technology is carried out under aerobic condition. In the function of aerobic microorganism, macromolecule organic substances will be degraded into inorganic substances. Aerobic composting technology is widely applied in foreign countries.
Incineration&power generation
Combustible materials contained in food wastes can be burnt to produce energy for power generation, which will realized the food wastes cycle utilization aim. Main advantages of this method are high handling capacity and good reduction effect.
Anaerobic fermentation process
In the function of anaerobic bacteria, organic substances contained in food wastes will be degraded into small molecule from macromolecular substances. Finally, these substances will be transferred into biogas. There are many advantages for anaerobic fermentation technology such as reduction and good disposal performances. Biogas produced in the process can be used as a kind of new energy type to replenish existing energy sources. There is no odor emission no secondary pollution in anaerobic fermentation process. This method is widely accepted by public people. Owing to mature technology, this method has been widely applied at home and abroad.
Landfill treatment
After being collected and transported, food wastes will mix with other domestic garbage. Then, these wastes will be sent to landfill and be buried directly. This method is very simple and costs less running expenses. In addition, this method holds very large handling capacity. Of course, it holds various disadvantages. It will occupies too much land resources and cause pollution to underground water. Even, it will lead to secondary pollution and do harm to human health. Useful energy contained in food wastes will be wasted.
Product Superiority
1. This whole food wastes recycling system occupies less area. This system can improve energy transformation efficiency as much as possible.
2. This system holds stable performances. It is good for moisture preservation and moisture increase. With high level mechanization, this system holds less thermal loss and simple operation.
3. This system can meet requirements for food and beverage processing among catering services. It can reduce the waste of useful resources and improve the utilization efficiency of food wastes.
4. The whole system runs in a continuous and closed environment. It cannot only save land occupation, but also save construction investment. With convenient operation process, this system can eliminate odor and environmental pollution in the production process.
5. Taida brand new efficient food wastes recycling system can totally transfer food wastes into useful resources.
Besides, there are some unique advantages for Taida air-swept tubular drying machine.
Innovated technical process: according to economic value contained in food wastes, we adopt physical, mechanical and biological comprehensive technology to produce protein feed, fat and fermented biological feed after classification, extraction and processing. This drying system adopts a brand new concept to reuse the food wastes and develop new energy.
Innovated equipment: there are various varia contained in china food wastes which hold complex ingredients and high-content oil. All relevant equipment in the food wastes drying production line are specially designed devices after elaborate innovation and improvement. This whole set of drying production line is controlled by closed material flow system and central control system. This system makes it come true to recycle and reutilize food wastes in a continuous, automatic and large-scale manner.
Innovated recycled products
After classification and extraction, make food wastes into three kinds of products, protein feed, fat and fermented biological feed. It is a brand new and innovative technology. The protein content contained in re-produced protein feeds reaches to 32% to 37%, which can replace traditional feeds and fish stock. Re-produced fat can be used as a kind of chemical raw material which holds high price. By changing the packing materials, fermented biological feed can be made into various new feedstuff. Thus, food wastes can be100% recycled and used.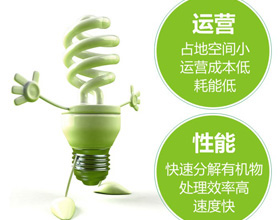 Working Principle
Food wastes drying system will crush raw materials first in order to provide convenience for subsequent dehydration. It will save energy consumption to dry materials after dehydration. In a hot environment, harmful substances contained in food wastes can be eliminated. There is no need to set separate sterilization process, which simplify the disposal process and save energy used for sterilization. After drying and sterilizing, materials can be made into granular feedstuff, which provides convenience for package, transportation and usage. Proper amount of additives can be added according to materials' quality and demand in order to get feed which complies with nutrition standards. This system is beneficial for the scientific breeding for fed livestock.
Work process of food wastes recycling system
1. Pre-treatment system
This step is used to eliminate large particles in food wastes (such as plastics, box, beverage bottle and chopsticks). Large matters will be crushed. Food wastes processing system is composed of silo, discharging device, primary screening, screw conveyor, sorting table, chopper and etc.
2. Dehydration and degreasing system
Pulse dust collector will send crushed and screed food wastes into dehydration bin where food wastes will be dehydrated and squeezed by dehydrator.
3. Drying and sterilizing system
The high temperature in drying process can eliminate moisture and harmful substances in food wastes. This system is composed of drying equipment, hot air furnace and cooling water cabinet.
4. Crushing and weighing system
After secondary screening system, materials will be sent to cooling bin. After cooling, materials will be crushed. This system is matched with pulse bag filter in crushing system and air supply process in order to avoid pollution.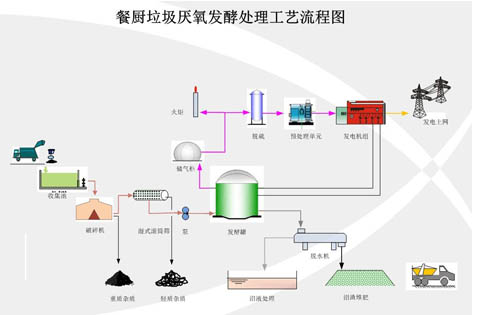 Technical Parameter
Model

Diamter(M)

L(M)

Inclination(%)

Power(kw)

Rotation speed

(r/min)

Floor area(m²)

TED-12100
1.2
10
3-5%
7.5
3-8
100
TED-15120
1.5
12
3-5%
10
3-8
150
TED-15150
1.5
15
3-5%
18.5
3-8
200
TED-18120
1.8
12
3-5%
11
3-8
260
TED-22120
2.2
12
3-5%
18.5
3-8
260
TED-22140
2.2
14
3-5%
18.5
3-5
300
TED-22160
2.2
16
3-5%
30
3-5
300
TED-24140
2.4
14
3-5%
30
3-5
350
TED-24180
2.4
18
3-5%
37
3-5
400
TED-24220
2.4
20
3-5%
37
3-5
450
TED-30200
3.0
20
3-5%
55
3-5
500
TED-30220
3.0
22
3-5%
75
3-5
500
TED-40250
4.0
25
3-5%
210
3-5
800