Product Introduction
With the implement of sustainable development strategy, rational development and comprehensive utilization of coal and relevant mineral resources have become key subject. It is urgent to make full use of coal resources with low use value. It can transfer waste into valuable resources and produce considerable economic profits. Taida coal material drying production line can effectively reduce coal moisture content while not changing coal material property. Through Taida coal material drying line, calorific value of coal and combustion efficiency can be improved, which makes coal material utilization efficiency higher. Lignite becomes a new development way against that domestic coal resources are tighter day by day. Coal material drying upgrading is a new problem which should be dealt with urgently. Zhengzhou Taida has specialized in dewatering of coal slurry and washed coal for many years and has gained rich theoretical and practical experience. Aimed at features of coal materials, Taida technical department figured out a set of special coal drying and upgrading system which solves a series of environmental and safe problems. As a major technical breakthrough of our company, this set of coal drying upgrading system greatly expands the application fields of coal, lignite and other relevant coal materials.
At present, Taida coal material drying upgrading system has been widely applied in many places at home and abroad. It helps many customers solve difficulties and enjoyed great popularity among customers. Our coal material drying upgrading system has formed large scale, serialization and automation. There are many models for customers' choice and equipment diameter ranges from 1.6m to 4m. Output capacity can be adjusted from 300 to 3000 tons. Generally, initial moisture is from 30% to 60% and final moisture can be as lower as 15%. TOTAL Taida coal material upgrading drying system can totally meet different customer's various demands for output capacity.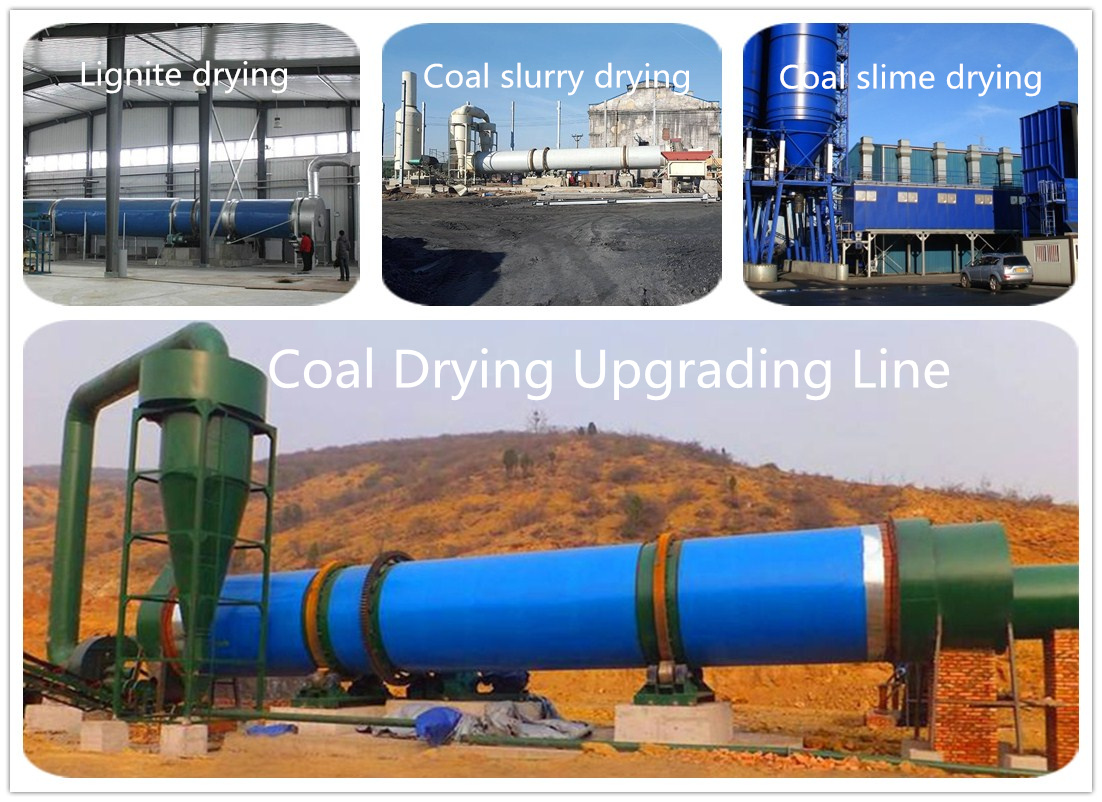 Working Principle
Wet coal slime/coal slurry/lignite are evenly sent to rotary drum coal upgrading drying system by feeding conveying system. After entrance into rotary dryer, wet materials will be led to oblique lifting area. Under the function of internal lifting plate, raw materials will fully exchange heat with hot air and evaporate partial moisture. Meanwhile, temperature of hot flue gas will drop sharply. Preheated wet materials enter medium drying stage and majority moisture will be evaporated here. Materials and flue gas will repeatedly mix and exchange heat until reach to ideal final moisture. Then, qualified dried materials will be discharged out dryer drum and sent to appointed place for storage. Hot air produced by heat source will enter dryer drum. After finishing heat exchanging, tail gas which contains large amount of vapor and dust will pass through cyclone and discharged to atmosphere after secondary purification of bag filter or water type dust removal system.
Technical Parameter
| | | | | | |
| --- | --- | --- | --- | --- | --- |
| Model | Size | Input capacity (t/h) | Evaporation capacity (t/h) | Motor power (Kw) | Occupation area |
| TDMT1616 | 1.6×16m | 10-15 | 1.5-2 | 68 | 30×6 |
| TDMT2018 | 2.0×18m | 25-30 | 3-5 | 126 | 35×7 |
| TDMT2418 | 2.4×18m | 40-60 | 7-8 | 245 | 50×12 |
| TDMT3020 | 3.0×20m | 70-90 | 11-13 | 358 | 50×15 |
| TDMT3425 | 3.4×25m | 100-150 | 16-20 | 520 | 60×15 |
| TDMT4036 | 4.0×36m | 130-200 | 28-40 | 635 | 70×15 |
| TDMT4238 | 4.2×38m | 350-450 | 45-50 | 712 | 74×16 |