Product Introduction
From the perspective of China's resource distribution, lignite resources are mainly distributed in Inner Mongolia and Yunnan-Guizhou, while Inner Mongolia itself is rich in coal resources. The conversion rate of lignite resources on-site utilization is not high, which will cause resource duplication and waste. Therefore, vigorously developing lignite upgrading technology can effectively improve China's coal resource structure and optimize resource distribution. The lignite upgrading can be divided into two processes of dehydration and pyrolysis according to different processing methods. Dehydration is usually carried out before the lignite pyrolysis process, and lignite drying and dehydration is the most common lignite upgrading process.

At present, the lignite upgrading technology is mainly based on lignite drying. The Zhengzhou Taida lignite upgrading production line mainly adopts the rotary drum lignite drying upgrading process. Under the condition of ensuring the quality of the dried lignite is unchanged, the low-temperature four-stage drying process is adopted, which is effective. Reduce the sulfur content and ash of lignite and increase the calorific value of lignite to meet the requirements of coal for power plants. The lignite upgrading process can reduce the moisture of the lignite to less than 12%, thereby reducing the transportation cost, and at the same time processing the shaped coal to solve the problem that the lignite is liable to spontaneous combustion. The calorific value of the treated coal can be increased by more than 30%, and it can be directly used as a thermal coal instead of bituminous coal or anthracite in a thermal power plant.

Rotary drum lignite drying process - the core of drum drying is a slightly inclined and rotatable cylinder. The inclination of the cylinder can be adjusted, generally ranging from 2 to 10 degrees. According to the contact mode of wet lignite and heat carrier, rotary lignite drum drying device developed and utilized in the industry mainly includes a direct heating drum dryer, a rotary tube dryer and a steam tube indirect heating drum dryer.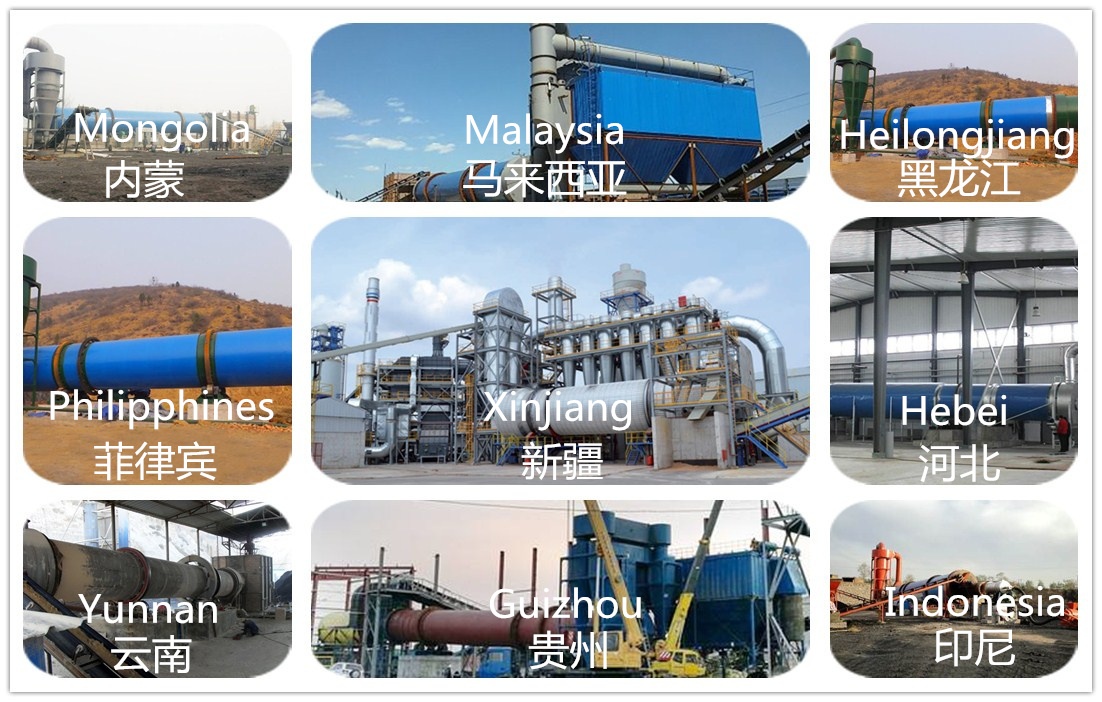 After lignite drying pyrolysis, the main uses of the obtained dried lignite are as follows:
1. Semi-coke: Semi-coke is the main product of lignite pyrolysis and upgrading. The semi-coke value is higher than that of the original lignite (generally 50%-80%). It is mainly used in:
a. Semi-coke activated carbon: Pyrolysis semi-coke has low volatile content, few heteroatoms and dense microstructure, and can be used as raw material for producing low-ash high-strength activated carbon.
b. Semi-coke for iron alloy reducing agent: smelting of ferrosilicon, ferromanganese, ferrochrome and other alloys requires reduction coke.
c. Semi-coke for blast furnace injection fuel: blast furnace pulverized coal can replace part of metallurgical coke, and is conducive to iron control operation control and improve production efficiency.
d. Semi-focus for calcium carbide: The production of calcium carbide is also a high energy-consuming industry, which requires good coke reactivity and high specific resistance.
f. Oil absorbing agent: semi-coke has fast oil absorption and large oil absorption, which can be used to treat marine oil pollution.
g. Denitrification agent carrier: The semi-coke pores are developed. When used as a denitrification agent carrier, it has a large reaction specific surface area, has a good denitration effect, and is easy to be burned after denitration.
h. Smokeless fuel: low coke volatiles, good combustion performance, can be directly used for iron ore powder sintering, boilers, cement kiln, ceramic kiln, etc., can also be used for civil and molding fuel production.
i. Coking thinner: semi-coke has high carbon content, high microstructure strength, and is inert during coking. As a thinner, it can expand coking coal resources, reduce coke ash, and increase coke blockiness and strength.

2. Coal tar and coal gas
As an important chemical recovery product in the coking process, coal tar is a complex mixture of tens of thousands of components. At present, about 500 kinds of single compounds have been separated and identified, accounting for 55% of the total coal tar. These include 174 neutral components such as benzene, xylene, and naphthalene; 63 acidic components such as phenol and cresol, and 113 alkaline components. Many of the compounds in coal tar are valuable raw materials for plastics, synthetic fibers, synthetic rubber, pesticides, pharmaceuticals, high-temperature materials and the defense industry. Some polycyclic aromatic hydrocarbon compounds are not produced and replaced by petrochemicals. Coal tar is mainly used to process light oil, phenol oil, naphthalene oil and modified asphalt. After deep processing, it can be used to produce a variety of chemical raw materials such as benzene, phenol, naphthalene and anthracene. The products are numerous and widely used. The solid heat carrier method rapidly pyrolyzes the gas into a medium heat value gas, which can be used as a city gas, an industrial fuel, and can also be used as a chemical raw material.
Product Superiority
Lare input capacity
Lignite dryer holds strong over load reistance, large capacity, low energy consumption and low drying cost. Special structure greatly reduces equipment abrasion and enlarge service life.

High thermal efficiency and low energy consumption
Adopt fair-current drying mode; makes use of hot flue gas to reach good evaporation capacity, outlet temperature is low.

Flexible running parameters
Running parameters can be adjusted according to raw materials' property. Particle size and final moisture can be controlled based on customer's demands. Final moisture can reach as low as 8%.

New feeding and discharging device
New feeding and discharging device avoids blocking and unevenness problem; reduce load of dust collecting machine.

Easy to adjsut discharging outlet
New inner structure enhances cleaning and heat conduction function; eliminate wall sticking issue; holds greater adapability to moisture content and stickiness.

Zero horizontal thrust
Taida lignite dryer makes zero horizontal thrust come true, which greatly reduces catch wheel abrasion and makes running smoooth.
Working Principle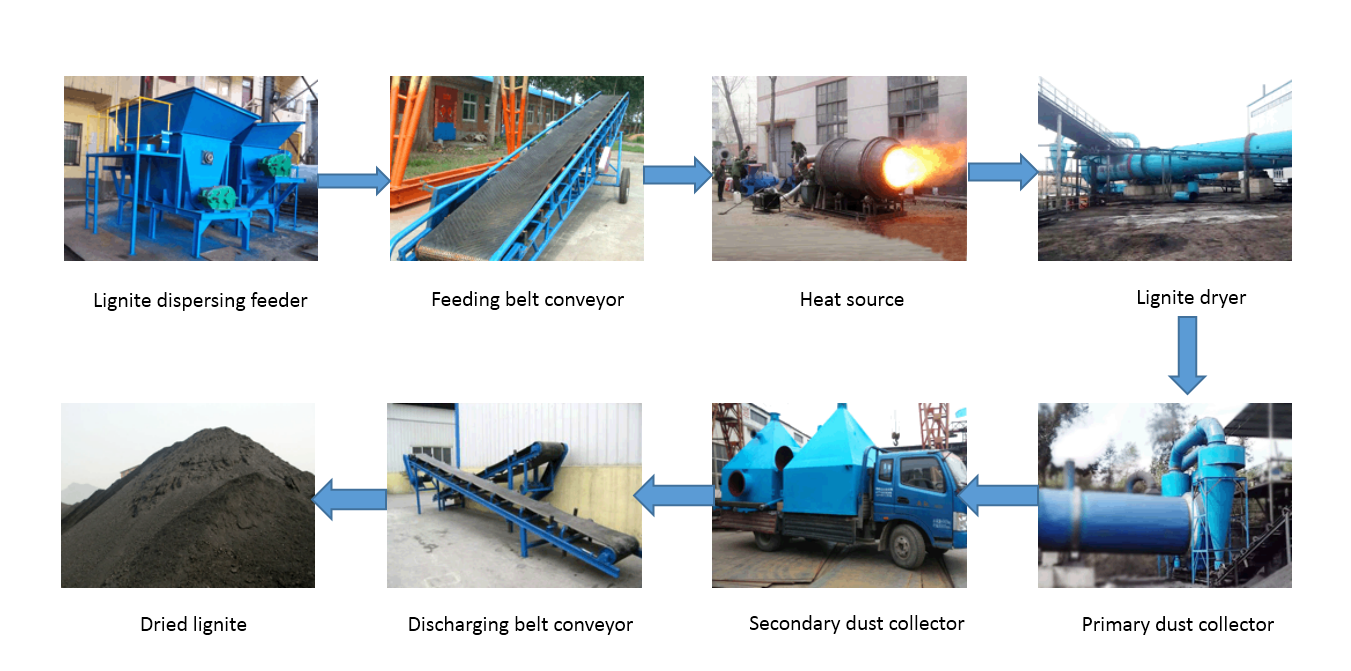 Wet coal slime/coal slurry/lignite are evenly sent to rotary drum dryer by feeding conveying system. After entrance into rotary dryer, wet materials will be led to oblique lifting area. Under the function of internal lifting plate, raw materials will fully exchange heat with hot air and evaporate partial moisture. Meanwhile, temperature of hot flue gas will drop sharply. Preheated wet materials enter medium drying stage and majority moisture will be evaporated here. Materials and flue gas will repeatedly mix and exchange heat until reach to ideal final moisture. Then, qualified dried materials will be discharged out dryer drum and sent to appointed place for storage. Hot air produced by heat source will enter dryer drum. After finishing heat exchanging, tail gas which contains large amount of vapor and dust will pass through cyclone and discharged to atmosphere after secondary purification of bag filter or water type dust removal system.
Technical Parameter
Model

Drum diameter(M)

Drum length(M)

Drum slope(%)

Motor power(kw)

Drum rpm
(r/min)

Occupation area(m²)

TDGT-12100
1.2
10
3-5%
7.5
3-8
100
TDGT-15120
1.5
12
3-5%
10
3-8
150
TDGT-15150
1.5
15
3-5%
18.5
3-8
200
TDGT-18120
1.8
12
3-5%
11
3-8
260
TDGT-22120
2.2
12
3-5%
18.5
3-8
260
TDGT-22140
2.2
14
3-5%
18.5
3-5
300
TDGT-22160
2.2
16
3-5%
30
3-5
300
TDGT-24140
2.4
14
3-5%
30
3-5
350
TDGT-24180
2.4
18
3-5%
37
3-5
400
TDGT-24220
2.4
20
3-5%
37
3-5
450
TDGT-30200
3.0
20
3-5%
55
3-5
500
TDGT-30220
3.0
22
3-5%
75
3-5
500
TDGT-40250
4.0
25
3-5%
210
3-5
800