Product Introduction
Coal slurry is characterized by high moisture and high stickiness. During drying process, coal slurry will be sent to coal slurry dispersing equipment through belt conveyor. After being dispersed, coal slurry will enter negative micro-pressure dryer which holds four working zones. Feed area: wet coal slurry enter the zone and contact with high-temperature negative pressure. Great amount of moisture will be evaporated. With the lifting of lifting plates, coal slurry will not bond and will be led to next working zone.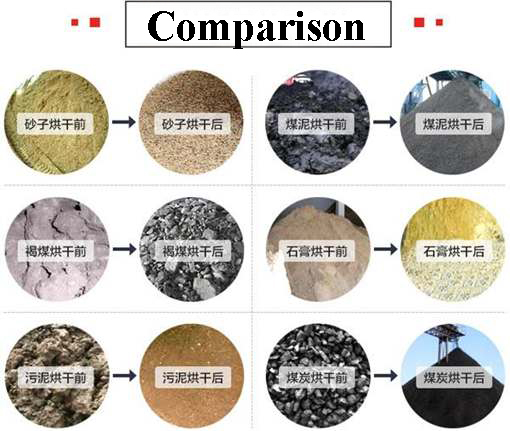 Cleaning zone: with the function of lifting plate, wet coal slurry will form a material curtain. When raw materials drop down, it is not easy to form cylinder-sticking problem. Because there is one cleaning device designed for this equipment, coal slurry adhere to drying cylinder can be quickly removed. During the whole process, cleaning device also has crushing function for large particle sized materials. Thus, heat exchanging area is increased and heat transfer efficiency is improved. Drying efficiency is improved correspondingly.
Low-temperature drying zone: coal slurry presents low-moisture loose state in this zone. There is no sticking phenomenon. After exchanging heat, the moisture of final products will reach standard requirements.
Discharging zone:
There is no lifting plates set in this zone for drying machine. Raw materials will slide to discharging port. The whole drying process is finished.

Customer working site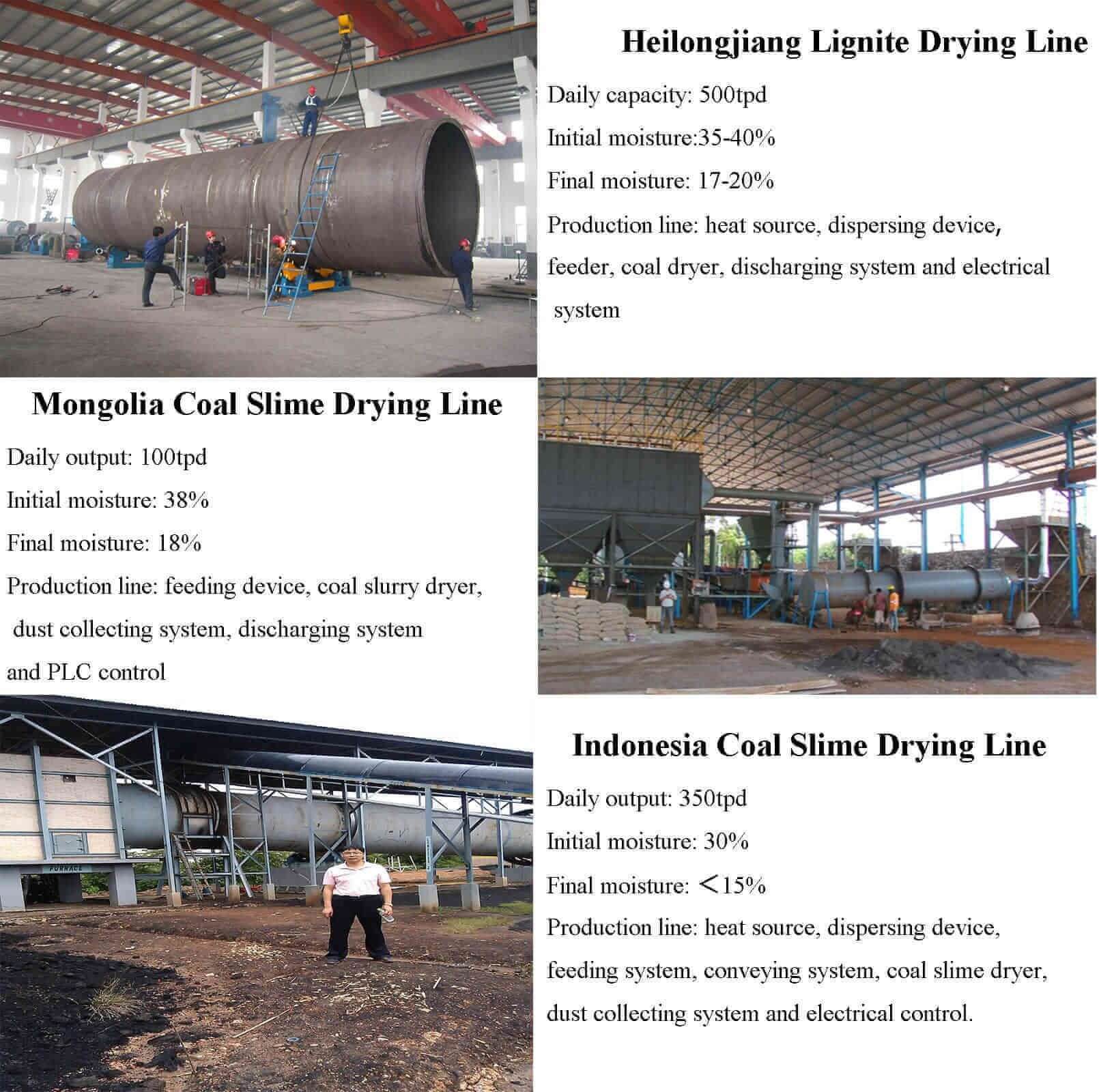 Product Superiority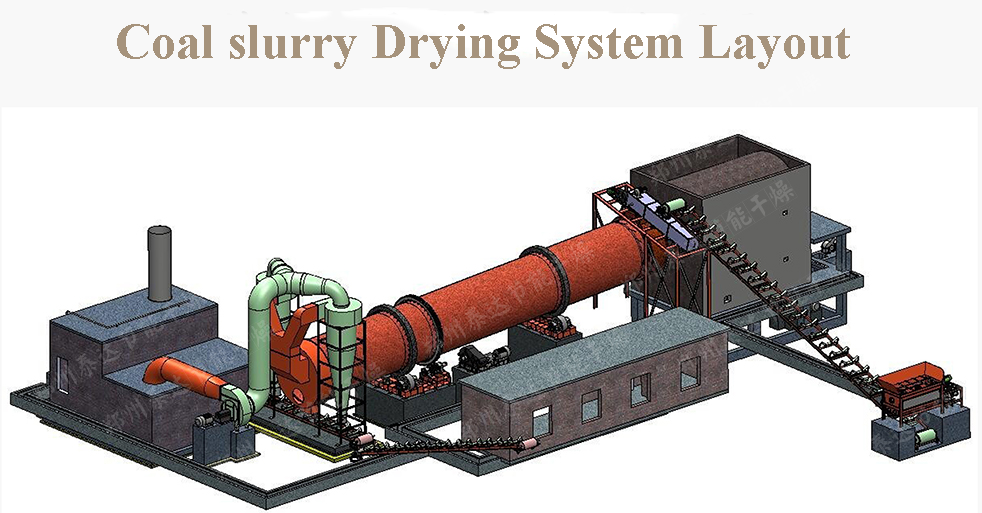 Strong drying capacity and good drying effect
Moisture can be reduced to lower than 12% from 20% to 40%. Particle size is about 10 mm.

Great handling capacity
Handling capacity of single machine can reach to 200t/h. there is a whole set of equipment which holds 10 to 200t/h output capacity. We can also customize drying machine according to customer's demands.

Uniform, continuous and stable feeding process.
The whole system is equipped with HGL model buffer feeder with proprietary intellectual rights which definitely solves wall-sticking and material blogging problem. Through frequency conversion system, we can guarantee the continuous and uniform feeding. The quality of final products can easily meet standards.

High automatic level
The whole system holds high integration level, automatic inspection system which can monitor the temperature of main parts, such as furnace, hearth, dryer inlet, dryer outlet and induced draft fan inlet. Pressure can be monitored and adjusted in time. It is with simple operation.

Safe and reliable drying process
Drying system runs in negative micro-pressure condition. The whole system holds very reliable performance.
Good and environmental-friendly working condition
The part from feeding part and discharging part is running in seal environment which can avoid cold air entering the system. No dust leak.

Energy-saving
Coal slurry drying system adopt a special drying mode where hot flue gas directly connects with coal slurry. Compared with traditional drying mode, its thermal efficiency can be increased by 50%. Running cost will also be reduced by 40%.

Low running cost
High automatic level; need less labor force; low processing cost.
Taida Coal Slurry Dryer Display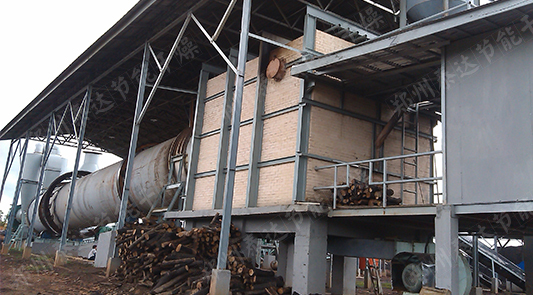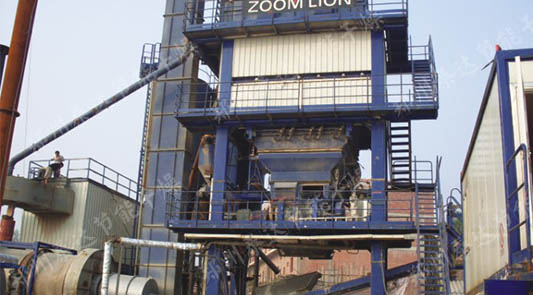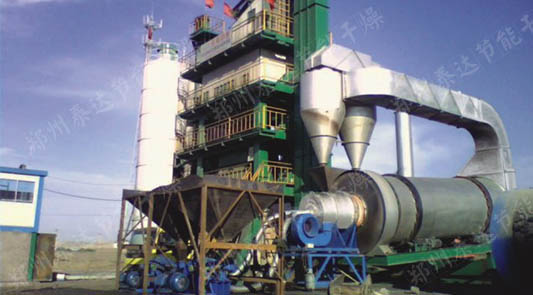 Working Principle
Raw materials will be sent to dispersing feeder. Then, raw materials will be sent to belt conveyor by screw. Then, raw materials will be led to incline lifting zone. With the rotation and inclination of drum, materials will be lifted to top and drop down, which will form a material curtain. Hot temperature flue gas will pass by wet materials and form heat conduction and heat exchange. Wet materials will be preheated and partial steam will be evaporated. Meanwhile, the temperature of hot flue gas will drop sharply. After being preheated, wet materials will enter middle temperature drying zone. Majority of moisture will be evaporated here. There will be a mixing process between materials and flue gas until materials' moisture enter a standard value. Then, materials will be discharged out. After heat exchanging, exhaust gas which contains a great amount of steam and dust will be dedusted coarsely by first-class cyclone dust collector. Then, secondary-class bag filter or wet dust collector will carry out elaborate dust removal. After being purified, dust content of exhaust gas will be controlled at below 50mg/m³, which can definitely meet emission standard. Here, the whole drying process is finished.
Technical Parameter
Model
Cylinder diameter(M)
Cylinder length(M)
Cylinder inclination(%)
Motor power(kw)
Cylinder rotation speed
(r/min)
Floor area(m²)
TDGT-12100
1.2
10
3-5%
7.5
3-8
100
TDGT-15120
1.5
12
3-5%
10
3-8
150
TDGT-15150
1.5
15
3-5%
18.5
3-8
200
TDGT-18120
1.8
12
3-5%
11
3-8
260
TDGT-22120
2.2
12
3-5%
18.5
3-8
260
TDGT-22140
2.2
14
3-5%
18.5
3-5
300
TDGT-22160
2.2
16
3-5%
30
3-5
300
TDGT-24140
2.4
14
3-5%
30
3-5
350
TDGT-24180
2.4
18
3-5%
37
3-5
400
TDGT-24220
2.4
20
3-5%
37
3-5
450
TDGT-30200
3.0
20
3-5%
55
3-5
500
TDGT-30220
3.0
22
3-5%
75
3-5
500
TDGT-40250
4.0
25
3-5%
210
3-5
800