Product Introduction
Waste heat utilization dryer is a kind of drying machine which uses boiler exhaust gas, flue gas heat and other waste heat as drying equipment's heat source. It is characterized by low energy investment and no secondary pollution. Low coal burnt reduces pollution caused to environment and conforms to national low-carbon project call.
Waste heat utilization is a kind of mature and stable technology developed by our company. It can use waste heat produced from boiler, power generator and other combustion processes as heat source of the drying system. In the year of 2009, our company carried out the first step to use waste heat from large-scale petrochemical enterprises, which cannot only solve sludge disposal problem, but also can reduce fuel consumption quantity. This drying system brings great profits to many enterprises.
After generations' upgrading, this series drying machine has been widely applied to drying or preheating in chemical industry, medicine, wooden materials, construction, mining and metallurgy industries. Low temperature waste heat drying project can reduce production cost. It is a kind of environment friendly drying equipment which can save energy consumption and apply to various raw materials.
Product Superiority
Great flexibility
drying period can be adjusted flexibly according to types of materials. It cannot only be used to dry materials with high moisture, but also can do continuous production. Besides, it can carry out intermittent production according to customer's special requests.
Precise and flexible drying system
we can design insertion board according to different drying quality and drying curve. Pushing shovel and discharging shovel plate can make the system realize best drying effect. The retention time of raw materials in drying machine can be achieved by clapboard in discharging chute.
High automation level
this system can carry out continuous production. For some special production process, it can also carry out intermittent production. The whole production environment is very clean and with low noise. For those materials with different specific gravity, different moisture and different shape, this system can always fulfill good drying effect.
Flexible drying mode
This system can carry out both concurrent drying and counter-current drying. Therefore, it can be applied to thermal-sensitive materials. With great flexibility and high automation level, this system can do both continuous and intermittent production. Drying period can be adjusted according to different moisture content and materials' quality.
Convenient for transportation and installation
this whole set of machine is set on bearing with independent base frame, which provides convenience for transportation and installation.
Wide application
whatever specific gravity, particle size, shape and bulk density of raw materials are, this system can get very superior drying effect.
Occupy less area, compact production process
This whole production needs fewer auxiliary equipment and occupies less area. With compact production process, this equipment holds less quick-wear parts. This set of equipment is very easy to install.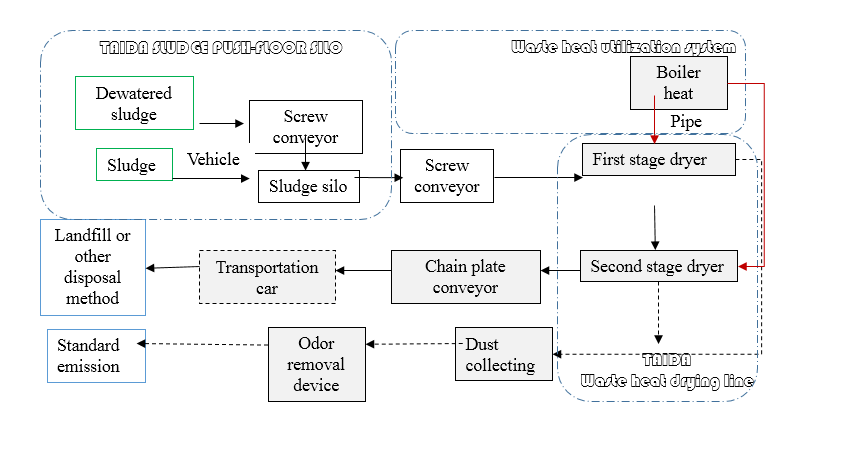 Working Principle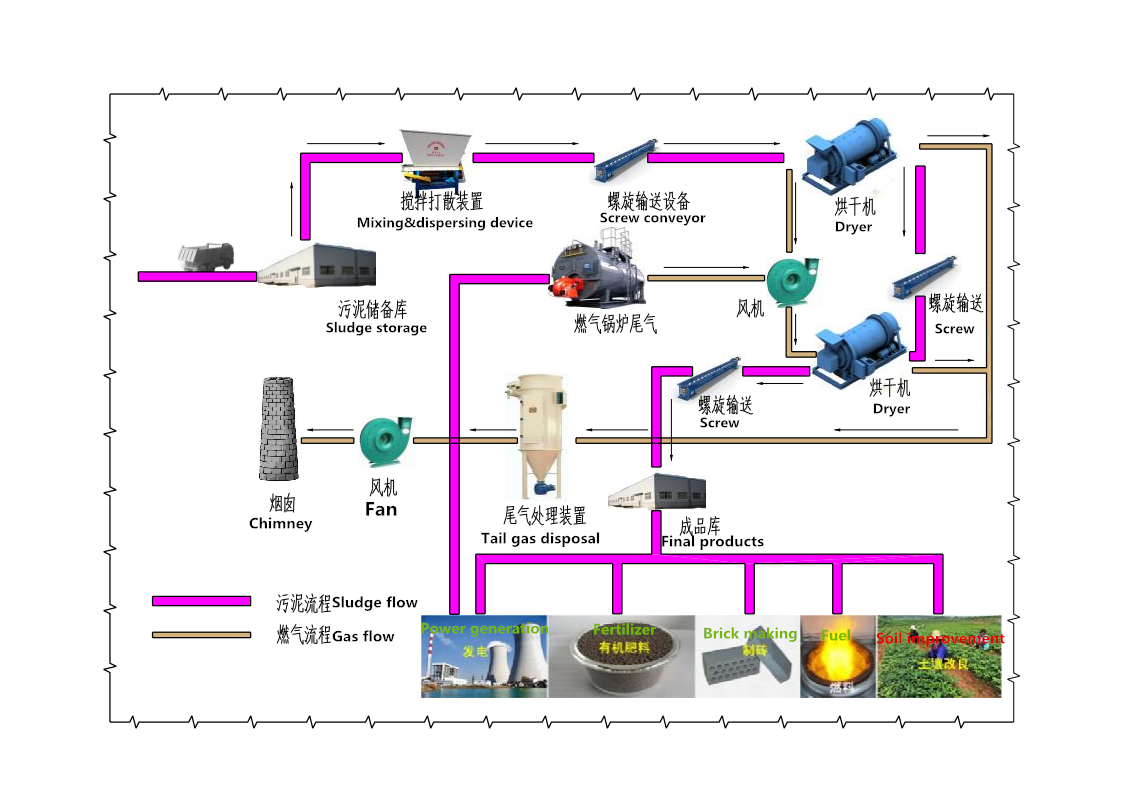 Low-temperature waste heat drying main components:
△ System consists: heat source (tail gas, exhaust gas), sludge dispersing feeder, waste heat rotary dryer, material crushing device, discharging machine, ID fan, unloader and electrical control cabinet.
△ Work process: after dewatered sludge entering dryer, under the stirring of lifting device, raw materials will fully contact with hot air, which speeds up heat and mass transferring procedure. During drying process, under the function of inclined lifting plate and heat media, materials will move to the other end of dryer and discharged by star discharger.
Technical Parameter
Input capacity

Power/kw

System area occupation/m2

Fuel consumption

Notes

Running power

Installed power

Core equipment

System occupation

1t/h

17.5

30

20

90-125

Make use of waste heat, no need extra fuel

Provide thorough technical and product service.

2t/h

22.5

40

24

125-175

Make use of waste heat, no need extra fuel

3t/h

30

50

32

175-300

Make use of waste heat, no need extra fuel

4-5t/h

45

70

48

300-400

Make use of waste heat, no need extra fuel

7.5t/h

55

90

60

350-450

Make use of waste heat, no need extra fuel