Product Introduction
European style energy-saving biomass dryer production line is especially designed by our company for biomass high-moisture and viscous raw materials. It is characterized by high output capacity, low area occupation, low energy consumption and stable operation. It is widely applied for drying of fermented feedstuff, bean dregs, bean pulp, fruit residue and medicine dregs. European style dryer is a kind of high thermal efficiency drying machine whose output capacity is higher than single pass dryer and area occupation is smaller than triple-pass dryer.
At present, we have set several European style dryer working sites at home and abroad. Whole line contains hot air furnace, biomass arch-breaking silo, feed/discharging device, European style dryer, high/low temperature pipe, dust collecting system, elevation conveying system, finished product cooling system, finished product silo, electrical control system, support frame and guard bar.
Features of European style biomass dryer:
Product Superiority
Features of new European style biomass dryer:
1. Adopt brand new design concept, characterized by less energy consumption, environment protection and low area occupation.
2. While saving occupation area, Taida dryer with high output capacity, less labor force, high automation level, easy operation and advanced technology.
3. While putting customer at first place, Taida European style dryer can reduce lots of worries for its reasonable structure and spare parts.
4. Taida dryer holds innovated structure and can be used to dry materials which cannot be dealt with by other common dryers. Quality of finished products can be guaranteed.
5. Compared with airflow and rotary dryer, output capacity of European style dryer can be improved by 50% to 70%.
6. Energy-saving: electricity consumption and heat consumption can be decreased by 50% and 60% respectively.
7. Environmental friendly: Adopt new environmental protection technology to collect dust.
8. Compared with traditional drying machines, operation and use cost is 30% lower.
Working Principle
Taida new European style bean dregs drying system working principle.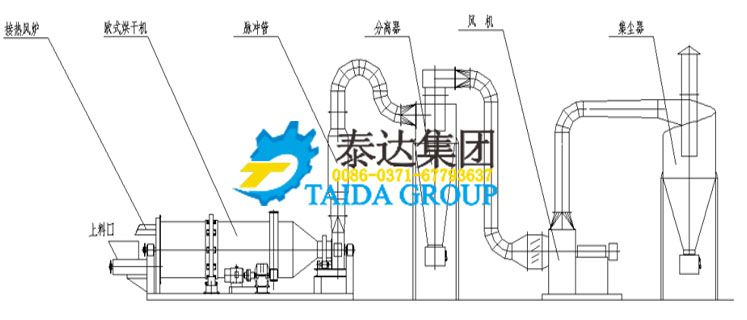 Through forced feeding device, raw materials (like vinasse/brewing wastes, bean dregs and feedstuff) are conveyed into new European style dryer. Then, raw materials will first be driven forward by screw to front section of dryer. European style dryer is equipped with special lifting device, dispersing device, returning device and damping device. In conjunction with hot air in dryer drum, materials are kept in floating state and forms a stable material curtain along with sectional surface, which guarantee full heat exchange between materials and hot air. With drum rotation, raw materials moisture are decreased sharply. When moisture reaches to a certain level, materials will enter pulse drying unit for further drying process. Materials will present in flotation state in the pulse drying unit. Materials will be collected by collecting device after moisture reaching to required standard. If the moisture hasn't reached to demanded level, materials will stay in pulse drying tube until reaching to qualified final moisture.
What deserves to be mentioned is that, special internal design of our European style dryer can protect beneficial ingredients contained in raw materials while guaranteeing efficient drying process.
Technical Parameter
Model

Power

Dryer dimensions

Mixing&dispersing device

Feed&discharging device

Fan

Overall dimensions /m
(W*L*H)

TDOS-Ⅰ

4-4.5 KW

1.0×3.8m

2.2 KW

valve

5.5 KW

1.5*5.5*2

TDOS-Ⅱ

5.5 KW

1.2×4.5m

3.0 KW

valve

5.5 KW

1.8*5.5*2

TDOS-Ⅲ

7.5 KW

1.5×4.5m

4.0 KW

valve

11 KW

2.5*9.5*2.2

TDOS-Ⅳ

11 KW

1.8×4.5m

5.5 KW

1.5 KW

15 KW

2.8*9.5*2.5

TDOS-Ⅴ

15 KW

2.0×5.0m

7.5 KW

1.5 KW

18.5 KW

3.0*10*2.8

TDOS-Ⅵ

18.5 KW

2.2×5.5m

7.5 KW

1.5 KW

22 KW

3.0*11*3.0