Product Introduction
As a complete set of continuous European style bean dreg drying equipment, bean dreg dryer is specially designed for bean dregs coming from byproducts produced by soy bean extraction. The complete production line consists of hot furnace, feeding device, discharging device, European style bean dreg dryer, pipe, dust collecting system, elevating and conveying system, cooling system, finished product bin, electrical control system, steel frame and etc.
Product Superiority
Unique characteristics of Taida European style bean dreg dryer:
1. With new design idea, Taida new European style bean dreg dryer is characterized by low energy consumption, less pollution and less floor area.
2. This new drying equipment not only occupies less area, but holds high output capacity. With automatic control system, this system consumes less labor force. With advanced technology, this whole system is very convenient to control.
3. Taida always puts customer at first place. Compared with conventional drying machine, new type European style bean dreg holds more reasonable structure and less spare parts, which can save much trouble for customers.
4. Developed by patent technology, European style bean dreg dryer holds innovative structure. It can dry materials which cannot be dried by common dryer. Final products hold superior quality.
5. Compared with common air flow and rotary dryer, the output capacity of this new type European style dryer can be increased by 50% to 70%.
6. Energy-saving: for drying the same kind of material, the electricity can be saved by 50% and heat source can be saved by 60%.
7. Environmental friendly: this new drying machine adopts new environmental friendly technology to collect dust.
8. Compared with traditional drying machines, the usage cost of this new type drying machine is 30% lower.
Working Principle
Bean dregs will be sent to new type European style dryer. After entering bean dryer, bean dregs will be driven by screw. There are lifting and dispersing devices which are mainly designed for bean dregs. Combining with the function of hot air in rotary drum, bean dregs will present suspension state all the time while exchanging heat. With the rotation of rotary drum, materials' moisture drop sharply. When the moisture of bean dregs reach to certain level, bean dregs will enter pulse tube again. Then, raw materials will still present suspension state. When the final moisture reaches to appointed level, final products will be sent to collecting device. If final moisture doesn't reach to standard level, materials will keep staying in pulse tube until reaching to appointed drying requirements.
Specially, there are multiple drying stages set in the internal dryer. When moisture of raw materials enters to certain standard, raw materials will enter low-temperature drying stage in order to guarantee continuous safe temperature range. Correspondingly, internal nutrition will not be damaged.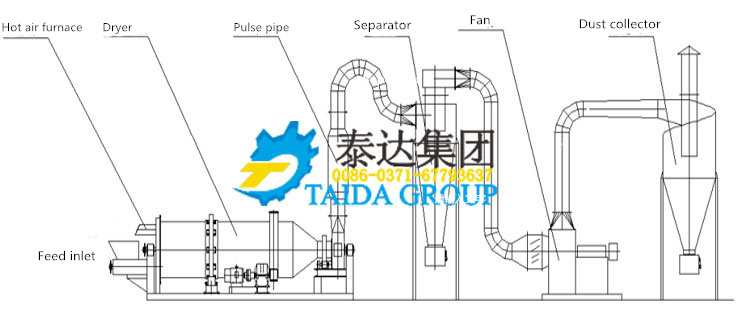 Technical Parameter
Model
Srew conveyor
Drying body
Model
Collecting&Discharging device
Fan
Overal dimensions(W*L*H)
Model
Power
Power
Dimensions
TDOS-Ⅰ
GX200×1.0m
1.1 KW
4-4.5 KW
1.0×3.8m
2.2 KW
Valve
5.5 KW
1.5*5.5*2
TDOS-Ⅱ
GX250×1.5m
1.1 KW
5.5 KW
1.2×4.5m
3.0 KW
Valve
5.5 KW
1.8*5.5*2
TDOS-Ⅲ
GX300×1.5m
1.5 KW
7.5 KW
1.5×4.5m
4.0 KW
Valve
11 KW
2.5*9.5*2.2
TDOS-Ⅳ
GX400×2.0m
1.5 KW
11 KW
1.8×4.5m
5.5 KW
1.5 KW
15 KW
2.8*9.5*2.5
TDOS-Ⅴ
GX400×2.0m
1.5 KW
15 KW
2.0×5.0m
7.5 KW
1.5 KW
18.5 KW
3.0*10*2.8
TDOS-Ⅵ
GX500×2.0m
2.2 KW
18.5 KW
2.2×5.5m
7.5 KW
1.5 KW
22 KW
3.0*11*3.0